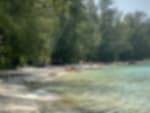 Coconut Beach is not for everybody
Coconut Beach is a private collection of modern and stylish beach bungalows ideally located at beautiful Haad Khom beach on the serene north side of Koh Phangan, and accessible by our private road or boat.
WE DO NOT ACCEPT GROUPS OF YOUNG GUYS OR GALS, especially if coming to Koh Phangan for the Full Moon Party.
Our bungalows have a unique open windowless design that our guests love. No windows needed, and no air conditioners needed either. Monkeys also love our design and visit often to see if guests left food in the rooms.
Coconut Beach is proud to be 100% solar powered, and completely off grid (except for the fiber internet) with all water and energy generated onsite.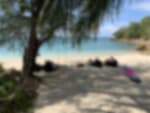 Guests enjoy the beach front restaurant which makes use of the organic farm onsite, as well as the beachfront massage studio. Additionally, our guests take full advantage of being located at one of the best snorkeling spots in Thailand and directly next to a hidden, unnamed, secret beach. Our beach front parking, pool, showers, beach umbrellas, motorbikes, paddle boards and other amenities are all reserved for our guests.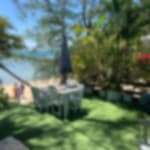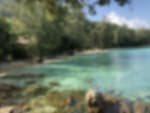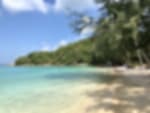 We are a family who live full time, year round on site. It is our home, so we are always available. In fact all the Thai people on site are 1 family - Grandfather is handy man, Grandma cleans rooms, Sister is chef, brother is groundskeeper, etc.
Haad Khom beach is arguably the best beach on Koh Phangan. The locals and long time visitors who started coming 20 years ago are trying to keep it a secret as it reminds them of how the island was when they first fell in love with it.
5 km away is Chaloklum, which is a 500 year old fishing village where everyone is an actual cousin of each other. There are 2 classic longtail taxi boats that park at the beach which can take you anywhere on the island. The 2 old men who operate the boats (Kai and Torn) were literally born on the beach, speak decent English and are happy to help.
We have motorbikes for our guests, and a truck available. There are taxis available anytime in the town next door, 5 min away. The most popular hiking trail on the island to Bottle Beach literally starts at the top of our property.